These features are available to all users

Enable two-factor authentication to add an additional layer of security to your account. If your password is ever lost or stolen, you can rest easy knowing that your Meister account and data remain secure. 
---
What is Two-Factor Authentication?
Two-factor authentication adds additional protection to your account by requiring both your account password and access to your mobile device to log in to your Meister Account.
To enable two-factor authentication, you'll need:
Your account password
Access to a mobile device
An authenticator app downloaded and installed on your mobile device
---
Enable Two-Factor Authentication
Step One: Download and install an authenticator app:
In order to enable two-factor authentication for your Meister Account, you'll first need to download and install an authenticator app on your device. We've currently tested the following apps available in the Apple Store and Google Play Store, but others should work as well:
Google Authenticator
Authy 2-Factor Authenticator
PW 2-factor Authenticator
1Password
Step Two: Enable two-factor authentication in the accounts page:
Click your user avatar in the top-right corner of the MeisterNote interface.
Select Account to access the accounts page.
Click Password & Email.
Scroll down and click Enable Two-Factor Authentication.
Click Get Started and enter your password.
Use your authenticator app to scan the QR-Code or click enter your secret key manually if you device does not have a camera.
Click Next and enter the security code generated by your app.
Two-Factor Authentication has now been enabled. From now on, you'll need access to both your password and your mobile device (with authenticator app) to sign in to your account.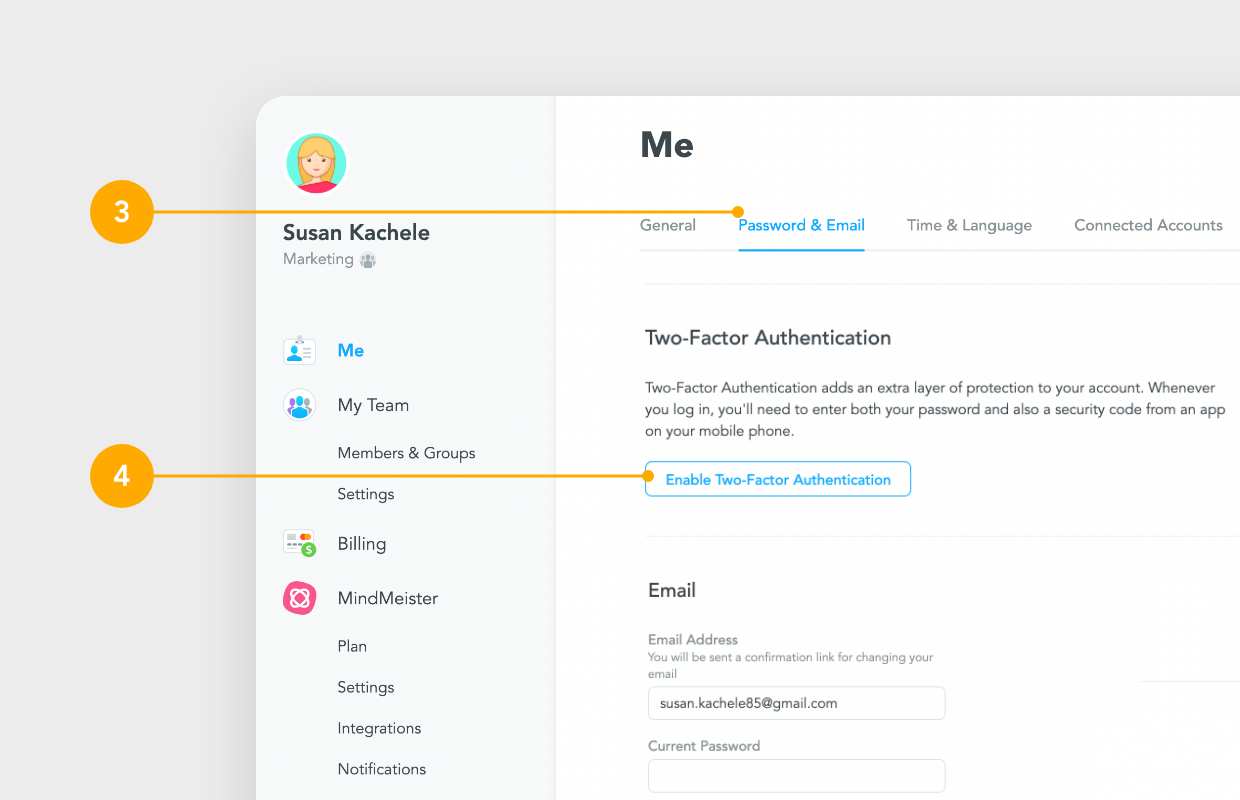 Your Rescue Code
Once you've activated two-factor authentication, you'll receive a 16-digit "rescue code" which can be entered in case you lose access to your phone. Be sure to write down this code and keep it safe! 
---
Still having trouble?
Reach out to MeisterNote Support!