These features are available to all users

In this best practices article, we'll share how you can use MeisterNote to effortlessly make beautiful presentations.   
---
Structure It: Add Headings, Line Separators and More
A good presentation is a good structure of thoughts, so whether you're making a presentation from scratch or simply converting existing notes, structural elements are key. 
New slides are created wherever you place any Heading content block and text size is automatically altered to make everything under a heading fit, so add headings regularly or the text on your slides might be too small!

Our advice:
Be generous with headings - having less information on each slide makes your presentation more manageable and digestible. Despite this, keep the 10-20-30 rule in mind: strong business presentations should have no more than 10 slides, be 20 minutes long and have no font smaller than 30 pt.  



If you're making rough meeting notes, try to get into the habit of

adding headings whenever there's a change in the main topic. This will make it easier for you to convert your notes directly into a presentation you can share with others. 



Although line separators don't start a new slide, you can use them in your presentation to

break up information

or

different sections under one topic. 



You can also use colored content blocks to

draw attention to important information and split up a wall of text. 



If you've created a great presentation from your notes, why not

save the note as a template

so your colleagues can use a similar structure?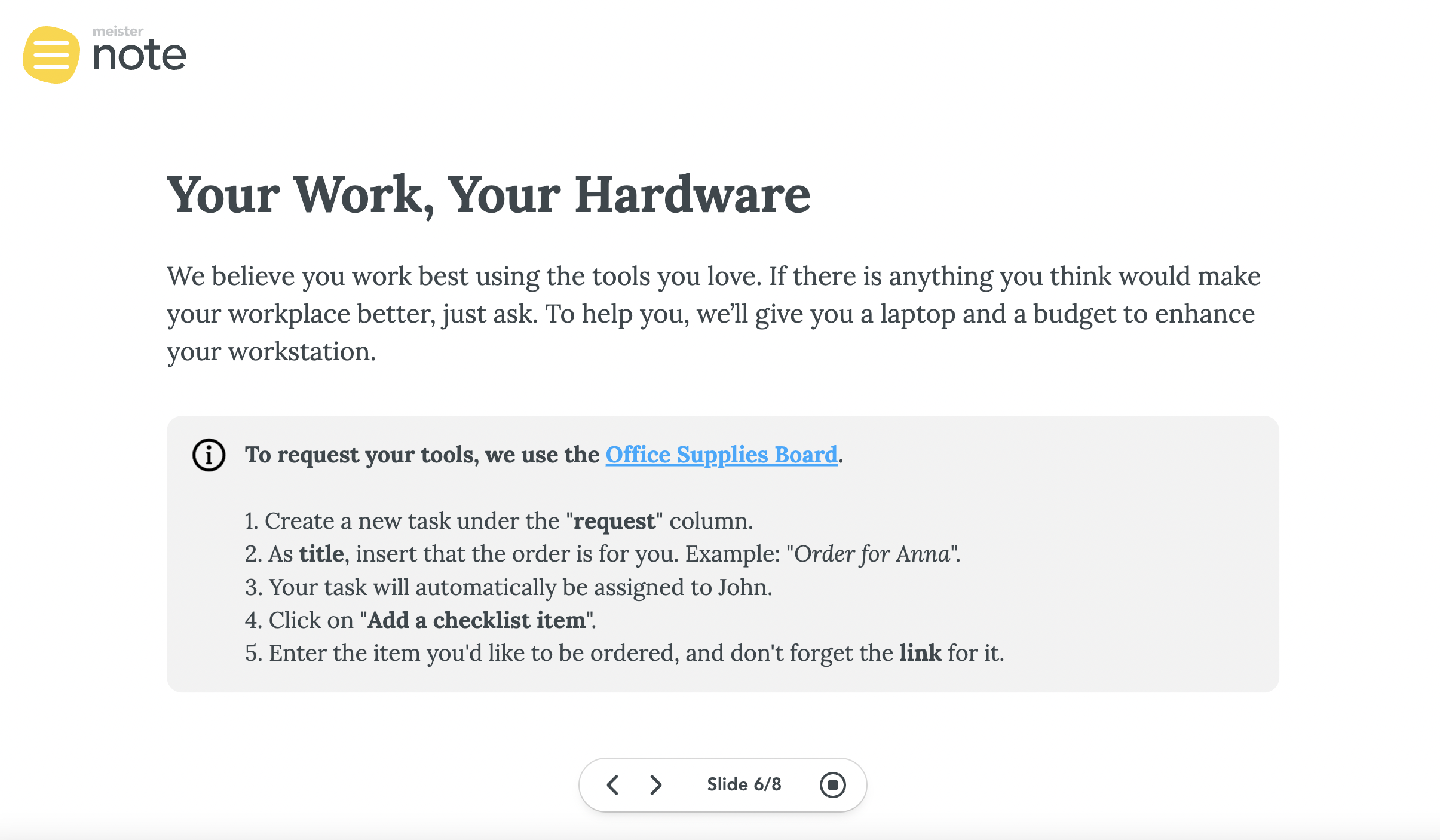 ---
Beautify It: Customize Your Text and Slides
It's not hard to make things pretty in MeisterNote, just:
Add colored

info

and

icon boxes.
Highlight text

in a range of soft tones. 

Insert images and videos

to illustrate your words.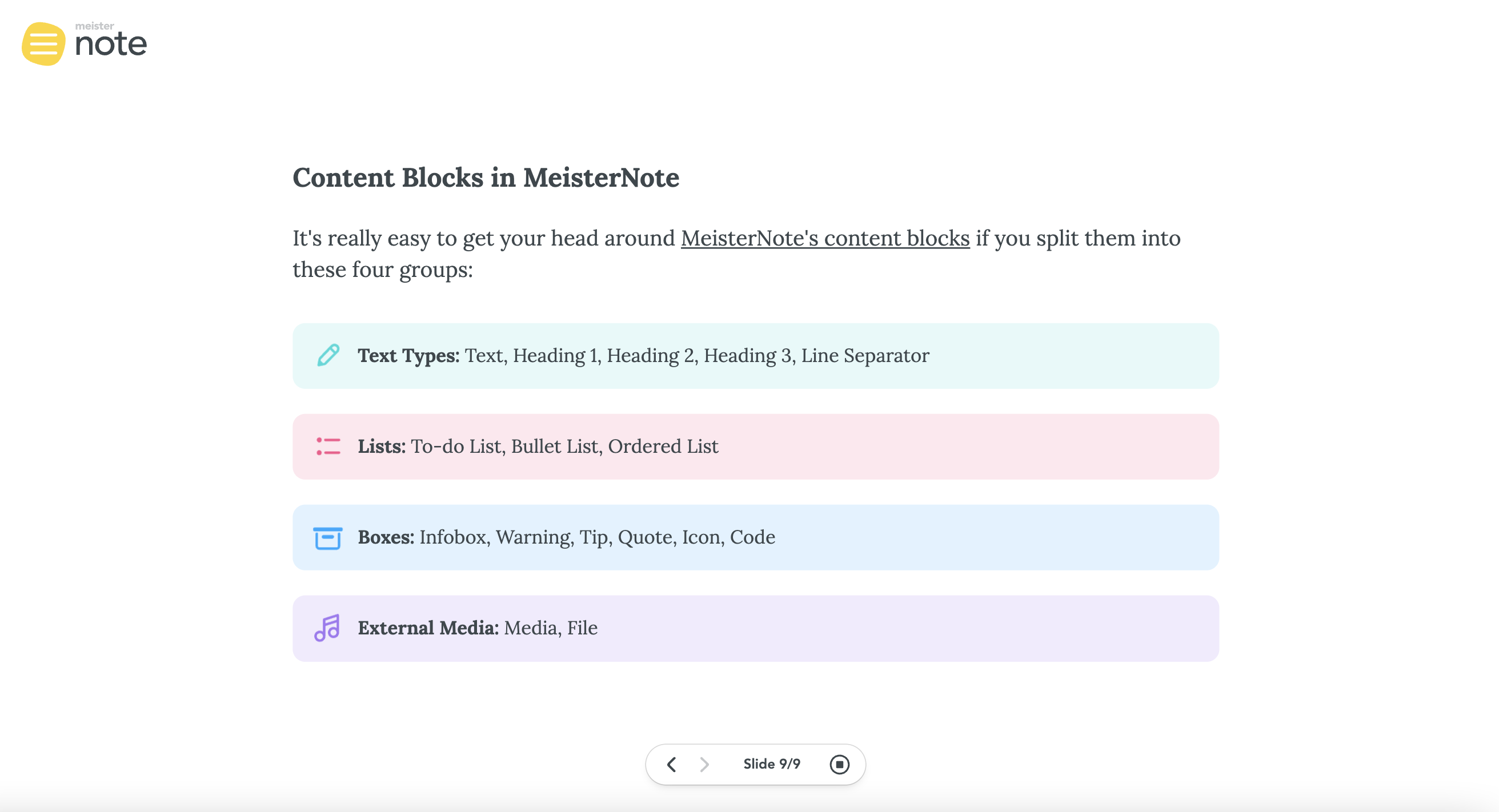 Customization isn't only for making your presentations look nice. In a professional setting, it can affect the impact of your message:
Images and videos can

make your presentation pop and give you an edge in company meetings, especially when compared to traditional text-heavy slides.



Customization can

reflect your brand. For example, highlight key words and phrases in your company colors or add your logo to the bottom of slides.



Highlighted information is

more memorable

and

breaks up

blocks of text

- clients will leave your presentation with certain information imprinted in their minds because you've intentionally focused their attention on it.



If you're presenting to clients, an

attractive presentation

makes an

attractive offer. A tastefully decorated presentation shows professionalism and indicates real quality in your products or services. 

---
Perfect It: Embed External Media
Now it's time to bring your presentation to life with embedded media - moving, engaging content with which you can interact. Embeds are super easy to insert, taking your presentations to new levels of professionalism with just a few clicks.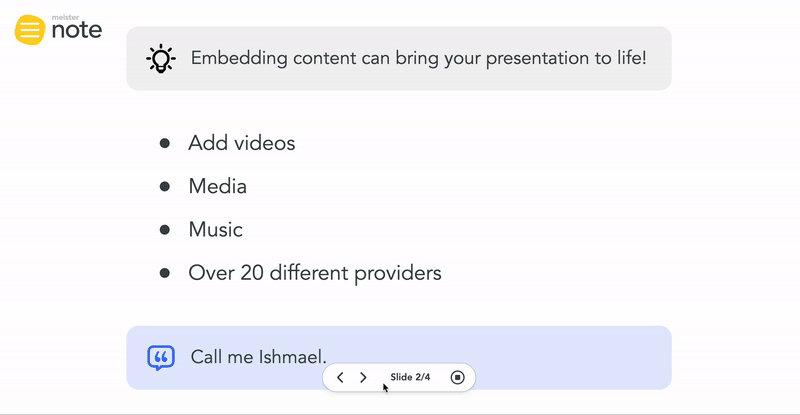 Remember, if you'd like your embedded media on its own slide, just add a heading.
Imagine you're going to present your quarterly budget. You can make a stunning presentation and embed Google Sheets directly into the slides, allowing for a seamless transition between text and numbers - browse and interact with the document without ever leaving your presentation.  
Here are some more examples of media you can play, explore and enjoy within your presentation: 
Listen to a song from Spotify.
Play Youtube or Vimeo videos.
Move around a MindMeister map.
Explore somewhere of interest in Google Maps.
Check out code in CodePen. 
Enjoy gifs from Giphy.
---
Still Scrolling?
Ask your question in the Meister Community!