These features are available to all users

In this best practices article, we'll share how you can use MeisterNote to make stunning documents quickly. Read on to find out how structuring, decorating and substantiating your notes really can be as easy as one, two, three.
---
Getting to Grips with Content Blocks
In MeisterNote, you can choose between 16+ content blocks - these are chunks of text which are formatted differently depending on the block you insert. Once you've mastered the content blocks, there'll be no stopping you in creating something beautiful with ease. Let's take a look at some of the ways you can use the different styles.
Our advice for text types:

These content blocks are great for giving your notes

structure

: use them to

split up your document

clearly and make information

easier to read

. 

The headings are also really important for making presentations

because headings create new slides. Keep this in mind when preparing to present so that you can organize your presentation accordingly. 

Access H4 and H5 headings by editing pre-existing headings. 
Top tips for top lists:

Use the list content blocks to write information in a more digestible format

. 

Add to-do lists to make a checklist of potential tasks

while writing a

project plan

. Take this a step further and

assign checklist items to your colleagues directly from within MeisterNote.

We also love using lists for

step-by-step guides

or information involving

longer processes

. For example, if you're using MeisterNote for your

company handbook, you'll need to include a whole load of information on important processes - try using an ordered list to make instructions clearer

.
A few tricks for adding boxes:

Boxes

add color

and

icons

to your words. 

We recommend using the quote and info boxes in formal pieces

- they can add a sense of legitimacy to the information you're sharing. 

Insert tip and warning boxes to draw attention

to especially important information.

Boxes are flexible

: they can add either an air of

professionalism

or one of

informality

, depending on how you use them.

---
Enhancing Notes with Embeds and Attachments
Embedding external media and attaching files allows you to create documents that do so much more than share black and white text. With embeds and attachments, you can: 
Make your document more

engaging

and

effective

in passing on information by adding visual elements to your writing

Create a

single source of truth

by incorporating information from various sources in one document

Improve communication

and

increase clarity

by displaying information in a visible format

Increase utility by ensuring nobody has to open external files or download extra documents
Attach image, video or sound files and embed from an extensive list of services including Giphy, Google Sheets, Spotify, Typeform and Youtube.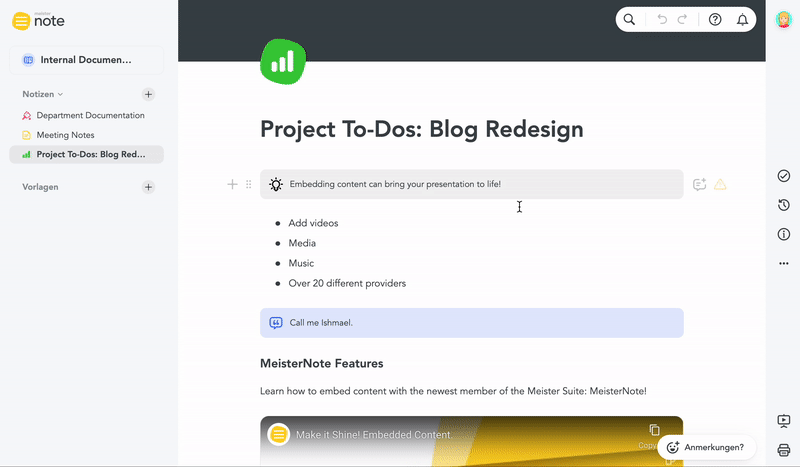 Imagine you're using MeisterNote to share a document about your annual team event. You've already structured your presentation with different headings and decorated it with tip, quote and icon boxes, but what else can you do?
Begin with a few images and videos from previous team events to set the right tone. After using text blocks and lists to highlight important information, embed a Google Map to show the location of the venue and where it lies in relation to the office. Finish up with an embedded Typeform survey and invite your colleagues to fill in their preferred start times, so you can be as accommodating as possible.  
---
Saving Time with Shortcuts
Don't sacrifice beauty for efficiency. Getting your head around MeisterNote's <keyboard shortcuts> might sound boring, but in the long run it'll save you a lot of time. You can use shortcuts for formatting text and to insert your favorite content blocks quickly. Simply: 
Type

/ (slash)

to immediately see

all the content block options

available to you.

Start

typing

your desired content block and click

Enter

when it appears to immediately add it to your note.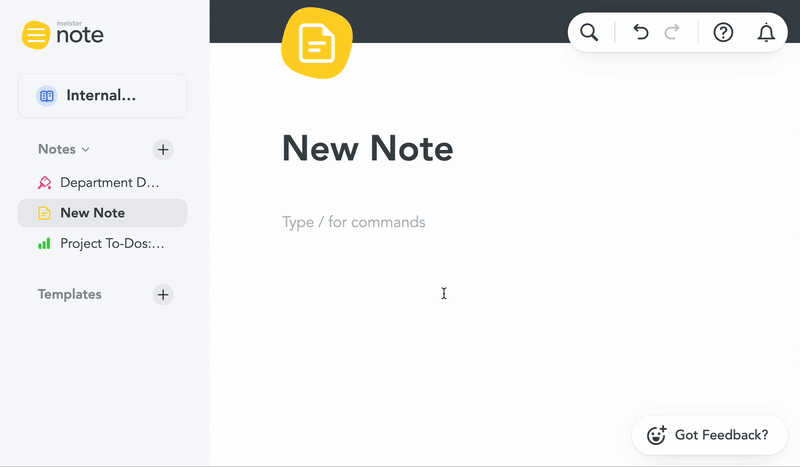 Try bringing together these key steps and you really will be able to make stunning notes in one, two, three.
---
Still Scrolling?
Ask your question in the Meister Community!